The inaugural Lynn Valley Day festival in 1912 dovetailed with the grand opening of the Lynn Canyon Park and Suspension Bridge, and festivities continued at the new Institute Hall on Mountain Highway after the ribbon cutting.
The memoirs of longtime Lynn Valley resident Walter Draycott show a recessionary bust in 1913 that followed the boom times of 1911-'12 led to the festival's hiatus until the Great War was over and the soldiers returned from overseas. In 1919, Draycott reported that the festival made a return and hosted competitions in such events as human wheelbarrow, three-legged race, hat trimming and needle threading.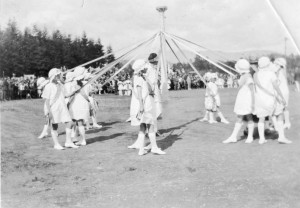 One year later the festival was held on Aug. 21 and Draycott, a WWI veteran and now Lynn Valley Day organizer, noted that "Weather was perfect, also the attendance — over 1,000."
However, he seemed less than enthused with the local politicians, writing: "Neither the Reeve, Council or Trustees had seen military service, which excused them for their lack of knowledge in organizing, discipline and comradeship."
In 1946, Lynn Valley Day merged with the formerly separate May Day celebration, making the May Pole dance an integral part of Lynn Valley Day festivals from that day forward. To this day, dancers still gather at the base of a "May Pole" each year and ceremonially weave ribbons as they whirl around the pole in a custom that dates back to spring fertility rites. Though the practice has been abandoned now, in earlier days, a "May Queen" would also be named at each festival. Helen Hall was crowned the very first Lynn Valley Queen at the 1946 joint celebration.
In the 1960s and '70s a regular and popular feature of the parade was the presence of local actor and storyteller Melvin Burritt in his "Silas Huckleback" persona. Burritt would ride up and down the length of the parade route in buckskin buffalo togs of his own making, fringes flying, astride a trusty steed, rifle by his side. Terry Nichols, who has been parade marshall for 36 years, remembers fondly the days of Huckleback leading the procession. "He was an extremely colourful character," says Nichols. "He knew how to ride his horse and he'd carry his rifle, and that rifle was loaded. But he had that horse under control, and the kids just loved him." Nichols admits that he misses the days when the parade was punctuated by unique characters like Huckleback. "Now you have to put up with politicians," he says, and laughs.
Perhaps one of the best accounts of the aftermath of a Lynn Valley Day Festival comes from a newspaper clipping authored by Allen MacSween on the 1946 edition of the annual festival. "…A huge dance completed a very full day," he writes. "Not much work was done in the Valley the next day, and many parched tongues and fevered brows blessed the clear, cold water supply. No one went to jail, it is a pleasure to report."